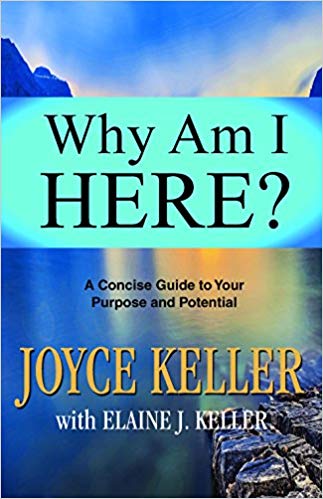 Why am I Here?: A Concise Guide to Your Purpose and Potential Paperback – April 13, 2016
As author/psychic Joyce Keller points out, you were born for a reason. Understanding your purpose can bring a joy and fulfillment to life that cannot be surpassed by anything material. There s no special trick to finding what life is all about but it does take a bit of work and a little self-study. Keller can help you recognize important aspects of yourself that will give you signs to your true purpose. Using everything from angel guides and astrology to karmic patterns and the Akashic records, you ll learn to embrace the life that was meant to be as you move through this simple yet powerful guidebook to your purpose and potential.
Buy The Book Here:  https://www.amazon.com/Why-Here-Concise-Purpose-Potential/dp/0876048580/
=================
Customer Reviews
5.0 out of 5
Best insightful book ever
May 25, 2016
Format: PaperbackVerified Purchase
Best insightful book ever! I just finished reading this wonderful, important book. It helped me to see very clearly my specific lessons as well as gifts I need to utilize in order to move forward with my purpose. Joyce Keller writes in a way that is very understandable, with a funny sense of humor. Everything she said made "sense" to me. While reading, I felt like she was right next to me, giving me my own personal reading…that is how accurate she is. I found myself checking out my loved ones lessons and purpose as well. Again, amazingly accurate. I can't say enough what a long awaited gem of a book this is. I own hundreds of spiritual/metaphysical books, and this one is quite unique, and definitely in my top 5!!
—————–
5.0 out of 5
starseye opening book
November 22, 2016
Format: PaperbackVerified Purchase
Great book. Everything Joyce Keller writes is fantastic. I loved this book because it really has you view your life from another perspective. It was eye opening not only for my own life, but for my husbands as well. Things I never thought of suddenly clicked with how on earth (or beyond earth) my husband and I ended up together (in a good way!!).
—————–
5.0 out of 5
Interesting Read
June 1, 2019
Format: PaperbackVerified Purchase
I read this book in two days and it is very interesting the way the author has a way of explaining reincarnation and what our purpose is in life. I did enjoy reading it and it was well written. It wasn't boring. The author is very insightful. There was alot of information in it that I didn't know before and it did make sense to me about things I didn't understand before.